Click on images for a larger view
 1- Front, Kenneth and William Carter; Rear, Richard and Nellie Carter
 2- Nellie Shelton Carter, c.1966
 3- Katie
 4- Janet Laws Carter, c.1976 with Tory (left) and Shane (right)
 5- Kenneth Ray Carter, c.1955 Elon College, NC
                                                                     Click on images for a larger view   6- Winston Marshall Carter (1868-1962) and Ida Sue Crews Carter (1875-1959). To view a copy of their marriage certificate dated December 1892, click here. 
  7-  Seated, left to right :Shirley Shelton, Willie Carroll Shelton (1901-1968), Ila Hawkins Shelton, Dixie Shelton;  Standing left to right: Pat and Wallace Shelton, Mack Shelton (1929-1997), Marvin Shelton, and Nellie Shelton c.1949
  8- From left to right: Janet Laws, Lois Heffner Laws (1937-1994), Joyce Laws (held by Lois), Julia Laws, and Bill Laws c.1957
  9- Denise Beasley, shown in front, is the fifth generation in this photo of the Coon Family. Seated in the chair is her great-great-grandmother Mrs. Julia Warden Coon, 93,  left, standing, is her great-grandmother, Mrs. Dora Coon Laws, 60,  right, standing is Mrs. Hazel Laws Warner (1919-1994), 38, and kneeling beside her is her daughter, Mrs. Doris Warner Beasley, 19.

Click on images for a larger view
 10- Billy Clayton Laws and  Lois Heffner Laws on their wedding day in October of 1953.
 11- Loraine Yeatts Heffner  and Lois Hefner Laws during Lois' first pregnancy.
 12- Charlie Thomas Hefner and Mary Ann Hudspeth Hefner, the parents of John William Heffner
 13- John William Heffner and Thelma Lorraine Cable Heffner
 14- Howard Cecil Carter relaxing on his front porch. In the background is Deborah Carter Maynor and Virginia Lee Smith Carter. In her lap she is holding Erik Christopher Carter when he was an infant.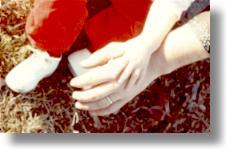 ---